MEDAN – SUMBER
The Reds Spa di Jalan Veteran, Kec Medan Deli, Kota Medan diduga dijadikan sebagai lokasi prostitusi yang menyediakan wanita pemuas nafsu lelaki. Lokasi ini setiap harinya ramai dikunjungi tamu khususnya pria hidung belang.
Tak pelak, keberadaan The Red Spa lantas menjadi sorotan. Pasalnya, lokasi esek-esek yang cukup meresahkan ini tampaknya tak tersentuh hukum. Terbukti, hingga kini lokasi tersebut masih bisa beraktivitas tanpa adanya tindakan dari pihak penegak hukum.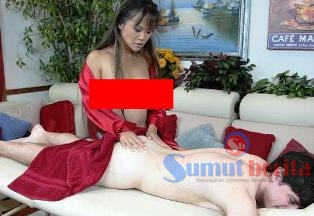 Dari hasil penelusuran wartawan beberapa waktu lalu, SPA ini diketahui menyediakan jasa layanan pemuas syahwat pria hidung belang. Bahkan bukan itu saja, SPA ini diduga tidak memiliki izin operasional dari Dinas Kebudayaan dan Pariwisata (Disbudpar) Kota Medan.
Anehnya, di dinding atas ruko dua pintu itu jelas terpampang plank merk The Red Spa. Namun, dari penelusuran, jasa SPA tersebut diduga hanya sebagai modus. Jelas terlihat jika pengusaha hanya menyediakan jasa lulur dan massage.
"Mau apa pak, kami punya beberapa fasilitas. Mau lulur atau massage?. Kalau SPA kita tidak ada," ujar sang kasir kepada wartawan yang saat itu sedang melakukan penusuran praktik prostitusi di SPA tersebut.
Selang beberapa menit, praktik tawar-menawar harga pun terjadi. Kasir itupun menawarkan beberapa wanita yang bekerja sebagai terapis. "Kebetulan pak, si Micel dan Mita sedang kosong, tidak ada job. Kalau harga yang kami tawarkan tarifnya Rp250 ribu, dipotong diskon 30% sekali lulur," tutur wanita seksi itu.
Tawar menawar harga pas, langsung tancap gas. Wanita seksi itu lantas mengajak masuk para pelanggannya ke dalam salah satu kamar. Di kamar itu, wanita bertubuh agak tambun menyambangi kamar dimana tamunya sudah menunggu. "Ayok bang tidur di atas," ajak Micel sembari mematikan lampu di dalam kamar.
Nah, akhirnya wanita itu meminta tamunya untuk membuka seluruh pakaian yang dikenakan. Micel lantas bertanya kembali. "Maaf bang, ini mau kusuk atas apa kusuk bawah juga?," tanya Micel yang mengenakan baju layaknya pakaian traning renang diberi gembok di kancingnya.
Negosiasi tahap kedua kembali terjadi. Micel menawarkan jasa plus-plus. "Kalau blowjob saja, saya pasang tarif Rp250 ribu. Tapi kalau mau semua, harus negosiasi lagi ke kasir," ungkapnya.
Sepakat, akhirnya wanita yang mengaku di import dari luar Kota Medan itu memulai permainannya. Sembari di pijat, terapis itu juga menawarkan ke setiap pelanggan yang datang, jika The Red Spa juga menyediakan minuman beralkohol berkelas.
"Disini kami juga menjual minuman alkohol," jelasnya sembari mengatakan kalau jumlah semua terapis wanita di lokasi itu sebanyak 22 orang dan SPA itu juga buka dari siang hingga tengah malam.
Sementara, temuan wartawan ini tampaknya tak mendapat respon dari pihak kepolisian. Kasubdit IV yang membidangi Remaja, Anak dan Wanita (Renakta) Polda Sumut, AKBP Faisal Napitupulu ketika dikonfirmasi sebelumnya mengatakan akan melakukan penyelidikan dan akan melakukan penggerebekan. Akan tetapi, hingga kini kepolisian tak kunjung melakukan penggerebekan.
Teranyar, Kasat Reskrim Polres Pelabuhan Belawan AKP Bambang G Hutabarat turut menyampaikan hal yang senada. "Kita selidiki dulu informasi itu, baru kita tindak lanjuti," ujarnya.
Namun, saat disinggung mengenai keberadaan The Reds Spa yang tidak pernah digerebek sejak awal beraktivitas, Bambang lantas menjawab enteng. "Jika tidak ada problem, kenapa harus digerebek. Kita menggerebek tidak asal-asalan," cetusnya.